Water Supply Pipe Repairs and Replacements
The Water Supply Pipe feeding a property is the homeowner's responsibility once on private land. Here at Met Serve we repair and replace more Water Supply Pipes than any other Emergency Plumbing Company in Surrey and Sussex. Whether that be a localised repair by digging down, or replacing the entire pipe using Trenchless Technology, we have a specialist team with the correct qualifications, insurance and experience to get the work done quickly and efficiently for you.
Typically our customer contact us with a Water Supply Pipe leak when:
they suddenly have water bills sky high
their local Waterboard have given a letter advising of a leak
they would like an existing lead water supply pipe replaced
they are having an extension, new bathroom, or new water system installed that is naturally more 'water thirsty' and needing greater water pressure and/or flow
ENQUIRE NOW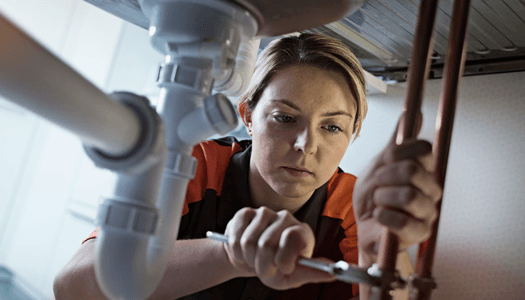 Moling / Trenchless Technology
When having a new Water Mains installed traditionally it would be very labour and time intensive – as you would have to trench the route of the new main and lay the pipe. Moling (AKA Trenchless Technology) allows a main to be installed quicker and cheaper. Instead of trenching we dig 'entry' and 'exit' pits (roughly 1m² each) and using a Compressor fire a 'Mole' through the ground from one pit to the other. The mole pulls the pipe through and we have a new main installed. Less disruptive to your property, less digging, quicker time frames and ultimately a cheaper solution! On most occasions, moling in a new Water Main will improve the waterflow and pressure feeding the property.
Localised Repairs/Spot Dig
The installation of a new main is not always required or necessary. We are also able to try and locate the location of a leak and dig down to repair that section. Cheaper and often quite quick this is often a quick solution to a leaking water main – with the option to replace the entire run always something to be considered, especially if the leaking main is found to be lead, has or has had multiple leaks or coming towards the end of its lifespan.
WIAPS and WaterSafe Accreditations
Only by using a WIAPS and WaterSafe contractor can you be confident that you are using the Services of a qualified, insured and approved Water Supply Pipe Engineer. We are proud to say that we are indeed WIAPS Qualified and renew this every year. On top of that you can find us on the WaterSafe website as an Approved Contractor. We have carried out work alongside and/or signed off by the following Waterboards:
Thames Water
Affinity Water
SES Water
Southern Water
Our Water Supply Pipe customers range from private households to Facilities Management Companies, to House Building Firms and Insurance firms. Our corporate client list includes:
British Gas
Direct Line
AXA
InterPartner Assistance
Home Assisitance UK
Aviva
Royal Mail
ROMEC
NPA 24/7
Mitie 24/7
Churchill Insurance
Hargreaves
ENQUIRE NOW
I need a Water Supply Pipe Engineer
We guarantee a call back within 15 minutes
or 10% off our final invoice* (terms apply)
There are typically 3 key reasons why people would like a new water mains installed:

Trusted hero with British Gas